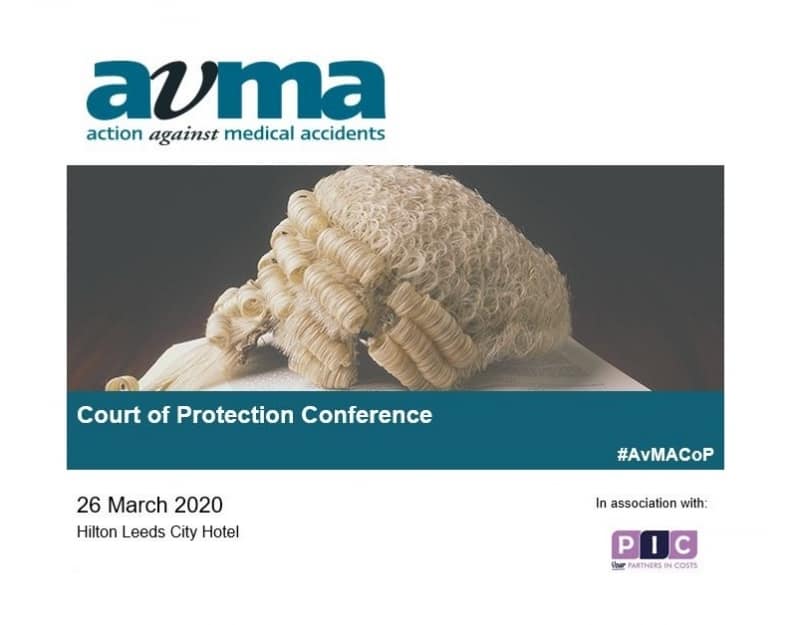 27 February 2020
AvMA Court of Protection Conference.
Venue: Hilton Leeds City Hotel
Since its inception in 2007, the Court of Protection has made crucial decisions to try to protect the well-being of vulnerable individuals. In a rapidly-evolving legal environment, AvMA's third annual Court of Protection conference will examine the current state of litigation and the challenges and responsibilities facing those who work in this important area. We are delighted to welcome HHJ Carolyn Hilder as a keynote speaker to the conference.
Target audience: Court of Protection specialists, including CoP lawyers and clinical negligence lawyers with an involvement with the CoP, professional deputies, private client experts, trustees, case managers.
From £125 + VAT*
*click here for details of fees and discount rates
Programme
CHAIR'S OPENING REMARKS
Natalia Levine, Barrister, Parklane Plowden Chambers
CASE LAW UPDATE
Simon Wilkinson, Barrister, Parklane Plowden Chambers and Gillian Knight, Solicitor, Director & Owner, Court of Protection Law Ltd
COURT OF PROTECTION MEDIATION SCHEME
Katharine Scott, Barrister, 39 Essex Chambers
KEYNOTE ADDRESS
HHJ Carolyn Hilder, Senior Judge of the Court of Protection
UPDATE FROM THE OFFICE OF THE PUBLIC GUARDIAN
Afshaan Hena, Senior Lawyer, Office of the Public Guardian
USING COURT OF PROTECTION POWERS TO PROTECT INDIVIDUALS – CASE STUDIES
Katie Gollop QC, Barrister, Serjeants' Inn Chambers
COSTS IN THE COURT OF PROTECTION
Costs Master Jennifer James; &
Adrian Hawley, Head of Court of Protection, PIC
THE DEPUTY'S PROPERTY AND AFFAIRS COSTS – THE FUTURE: FORUM
Speakers to be confirmed