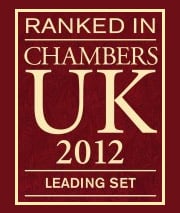 26 October 2011
Chambers dominates the North East in the recently published 2012 edition of "Chambers & Partners guide to the Legal Profession".
With 22 recommendations in the following disciplines within Chambers:
Personal Injury
Chambers UK states "This set's size, strength in depth and range of expertise put it well ahead of the competition on the North Eastern circuit. Lawyers praise the barristers' "excellent service and quick turnaround times," and the clerks command respect for their "promotion of the right individuals." Since the merger with Plowden Chambers, an influx of catastrophic personal injury and occupational disease work has driven the set's profile even higher. "The barristers work very much in tandem with us, are flexible in their approach and knowledgeable about many different industries," agree instructing solicitors.
Silks
Stuart Brown QC excels in both high-end personal injury and clinical negligence cases. He has been occupied lately with a massive multiparty action concerning hand arm vibration syndrome.
Juniors
Richard Copnall handles a steady stream of disease and accident work for such clients as the MOD and the Prison Service; he also undertakes inquiry work in the medical and mental areas. Jeremy Freedman has "a knack for spotting the politics of a case" and "quickly addresses clients' concerns and puts them at ease." He is often used for high-profile, complex cases. Stephen Friday advises defendants and claimants on a stream of chronic pain cases.
The "outstanding" James Murphy wins the respect of insurance companies and trade unions for his serious injury, amputation and liability work. Andrew Axon's "excellent court manner" is a real asset to clients, who also approve of his "laid-back approach." Sources applaud his "ability to make clients feel important" and the simple clarity of his communication. Howard Elgot tackles catastrophic brain and spinal injuries, workplace stress and disease litigation.
The "persuasive and articulate" Steven Turner is "one of the best credit hire barristers in the UK," say sources. Catherine Souter is a popular junior for road traffic accidents and EL/PL cases. The user-friendly Elizabeth Hodgson handles industrial disease and clinical negligence cases. "She gives pragmatic advice, and is sensitive to clients' needs and expectations." The "first-class" Mark Thomas is recommended especially for occupational disease claims. The "fantastic" Christopher Williams is "brilliant with clients" and enters the table on the strength of support from sources who appreciate his experience, depth of knowledge and lack of arrogance.
He is joined in the rankings by Michael Ditchfield, who does a lot of work for trade union and insurance clients on asbestos-related and industrial disease cases. Solicitors are "keen to get his view on complex liability cases." Newly ranked PI and clinical negligence expert Susan Shakespeare is "knowledgeable and respected." Clients value her experience as a judge, and her previous incarnation as a solicitor makes her popular with those that instruct her.
Clinical Negligence
Parklane Plowden also boasts a handful of highly regarded clinical negligence tenants, including Stuart Brown QC who remains a leader in the region and comes particularly recommended for cerebral palsy and obstetric claims. Brown is noted for his "excellent and incisive legal brain" and continues to be regarded by peers as "a fine opponent - tough but always fair." He heads up a chambers that also contains fellow silk David Wilby QC much-in-demand member of the Bar who regularly settles claims of maximum severity.
A particularly notable highlight of his saw him successfully act on behalf of the claimants in the high-profile Corby Litigation v Corby Borough Council case, which related to claims of public nuisance and negligence against the defendant council which led to teratogenic birth disability to children born from mothers affected by airborne chemicals. The set is also home to a number of capable juniors, including Jeremy Freedman who enjoys an excellent reputation amongst clients and experts alike. He is well versed in all areas of clinical negligence, but is a particularly good choice for birth injury claims.
Commentators are quick to describe him as "a very effective advocate - he's measured, reliable and always tactically assured." Parklane Plowden also counts Andrew Axon and Howard Elgot amongst its members. Axon is the current head of the personal injury and clinical negligence teams at the set, and handles a mix of claimant and defendant work.
He is also recommended for his experience in inquests. Elgot has a fine track record in high-value clinical negligence claims and recently acted on behalf of the claimant in the significant wrongful birth case Vickers v County Durham and Darlington NHS Trust. He wins much acclaim from the market, with sources praising his "sympathetic, committed and hard-working approach."
Employment
"Stellar performer" Seamus Sweeney is "a splendid combination of charm, intellect and lightness of touch." He is frequently instructed in high-value equal pay claims and TUPE matters, and also advises on changes to terms and conditions. Dominic Bayne, is acknowledged by peers to be a "strong and formidable opponent". Andrew Sugarman, has impressed with his "straighforward style" and is "loved by clients." He is "highly dedicated and will go to enormous lengths to fight the battle." Kirti Jeram is noted for her busy employment practice with emphasis on acting for local authorities, NHS trusts and police authorities in equal pay matters. Ashley Serr, who is "as tenacious as they come, and a real litigator who will fight for you till the end."
Family
Chambers boasts a pair of highly rated family barristers. Childcare practitioner Guy Swiffen wins particular praise for his analytical skills. One sourse notes: "He will marshal the evidence and come prepared." He enters the rankings this year following commendation as a "bright and stunningly good junior," who is particularly strong on his feet. Much of Joanne Astbury's recent practice has been focussed on children cases with medical complications, she regulary represents local authorities, Solicitors are keen to instruct her, not only for her legal experience, but also her "nurturing approach" and ability to form strong client relationships.
Sport
Steven Turner is again noted for his broad sports practice that takes in boxing and football cases, amongst others.