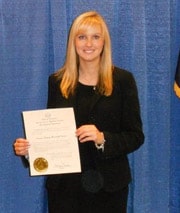 13 September 2010
Gemma Meredith-Davies admitted as Attorney and Counselor at Law in the State of New York.
Parklane Plowden member Gemma Meredith-Davies was admitted by the Supreme Court Appellate Division, Third Judicial Department on the 18th August 2010 as an attorney and counselor at law in the State of New York.
The ceremony took place at Empire State Plaza in Albany, New York., Gemma was the only person from the UK in the ceremony.