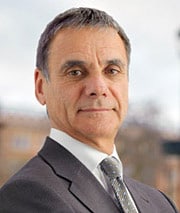 4 May 2016
Howard Elgot acted in High Court on behalf of child left disabled at birth
Analysis
The claimant suffers from cerebral palsy caused by oxygen starvation during his mother's labour at Scunthorpe General Hospital. The boy's IQ is estimated to be about 50 and his abilities to understand, reason and interact socially are similar to those of a child half his age. He also suffers from serious physical disabilities.
Howard Elgot, acting on behalf of the claimant claims midwives did not summon a doctor quickly enough when the baby's heart rate was recorded as 60 beats per minute, which is too slow to maintain the supply of oxygen to his brain.
At the High Court on 29 April 2016 he told Mrs Justice Cheema Grubb the reduced heart rate amounted to a 'medical emergency', and an 'immediate delivery' was necessary to save him from permanent injury.
He argued: 'There was seven to nine minutes of negligent delay in total' both before a doctor was called and after the doctor attended, and the boy was born just over 20 minutes after that. Had medical staff moved faster, Mr Elgot said, the claimant would have been born and resuscitated 13-15 minutes earlier and the injury to his brain would have been much less serious.
He claimed: 'A finding that it [the delay] had some effect on his mental development and intellectual ability, if not his motor difficulties, is almost inevitable.'
Northern Lincolnshire and Goole NHS Foundation Trust, which runs the hospital, denies liability.
The judge is expected to reserve her decision until a later date.