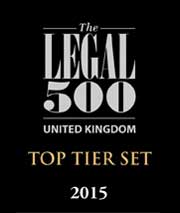 18 September 2015
Legal 500 2015 – Top Tier Set
Employment
Parklane Plowden's practice is well regarded nationally for employment law, and attracts particular praise for its strength in depth and breadth of expertise at all levels of call. In an indication of its expertise in groundbreaking matters, Andrew Sugarman is representing a group of judges who sit in the Immigration Appeal Tribunal in a part-time workers' discrimination test case against the Ministry of Justice; the case could have profound implications for all such fee-paid judges.
- Andrew Sugarman Approachable, personable, easy to work with and 100% reliable
- Andrew Webster Provides a thorough assessment of the merits and likely strategy of the opponent?s case
- Georgina Nolan Assimilates the key facts and points of a case very quickly
- Kirti Jeram Clients and witnesses often comment on her attention to detail and grasp of the facts
- Roger Quickfall Focuses on the main issue in question without getting embroiled in irrelevant matters
- Seamus Sweeney One of the few genuine alternatives to a QC in the north of England
Family & Children Law
Parklane Plowden is seen by many instructing parties as a 'first port of call' in factually and legally complex public law children matters, which account for a significant part of the family group's workload. The set also has a burgeoning reputation for Court of Protection work; members act in relation to issues such as deprivation of liberty, care and treatment, as well as the property and affairs of vulnerable children and adults lacking capacity.
- Joanne Astbury A powerful presence in court
- John Jackson He prepares thoroughly, and will go the extra mile for clients when necessary
- Julia Nelson A good, astute and helpful team member
Personal injury & Clinical Negligence
Parklane Plowden has a national reputation in personal injury and clinical negligence, and has a strong following among insurance companies and major law firms. Instructing parties are 'never let down', and the team has 'an excellent range of robust advocates'. In addition, 'barristers are prepared to travel long distances at short notice'. Members cover all types of large-loss, complex and catastrophic injury cases, while other strong suits include cases of suspected fraud and inquests. Andrew Axon is handling a high- value brain injury case involving an individual travelling as a passenger in a vehicle allegedly used for drug dealing.

- Stuart Brown QC - Parklane Plowden 'A highly polished barrister who commands the utmost confidence.'
- Andrew Axon He is good with clients and turns papers around promptly
- Catherine Souter Extremely personable and helpful, and will go the extra mile for you
- Christopher Williams Excellent breadth and depth of knowledge, and translates that to clients brilliantly
- Elizabeth Hodgson Her calm, no-nonsense approach inspires solicitors? and clients? confidence
- Hylton Armstrong He is robust and provides good advice; a rising star
- James Murphy He is experienced in a wide range of catastrophic injury cases and asbestos-related matters
- Jonathan Godfrey Primarily handles clinical negligence cases, but also deals with sports-related injuries
- Richard Copnall Calm, good attention to detail, and very sensible
- Tom Nossiter A robust advocate who has a down-to-earth approach