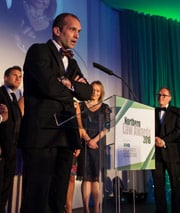 24 June 2016
Parklane Plowden Management team scoop a Northern Law Award
The Management Team at Parklane Plowden is delighted to have won Law Practice Management team of the year at the Northern Law Awards.
The awards ceremony which took place in Newcastle on 23rd June, recognised the achievements of the legal profession across the North East. Unlike other industry awards, all of the finalists undergo a rigorous interview process with a panel of judges who then decide on the winner.
Chambers won the award following the radical and unique restructure which took place in February 2015, and the success that has followed.
The innovative restructure saw the creation of 2 Management Boards: the Executive Management Board which oversees and drive delivery on all aspects of the growth strategy; and a separate Service Company (Plowden Facilities Ltd) that manages the internal systems associated with running a chambers.
This root and branch change enables barristers and clerks to work with increased efficiency by freeing them of the administrative tasks that do not enhance the solicitor-client experience. The structure also aids commercialism by making it easier to secure new avenues of work including ABS arrangements and block contracting. The team has the ability to agree bespoke working and financial arrangements with all of the work providers to chambers, always matching the correct barrister with the right client, with financial and commercial reality.
The success and impact of the restructure is evidenced by the most recent Chamber & Partners (2016) recommendation: "Parklane Plowden Clerks are better than the majority, they are outstanding!" In addition, Parklane Plowden Chambers is the only ranked Set for both Personal Injury and Clinical Negligence on the North East Circuit.
View the press (Download PDF)