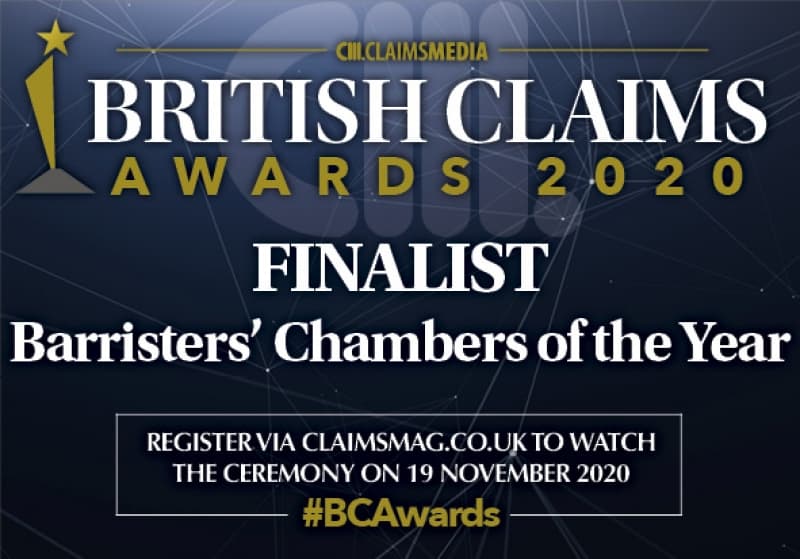 14 October 2020
Personal Injury and Clinical Negligence Team Shortlisted at the British Claims Awards 2020.
We are delighted to announce that our Personal Injury and Clinical Negligence team has been shortlisted for 'Barristers' Chambers of the Year' by the British Claims Awards 2020.
The past 12 months has seen Parklane Plowden further strengthen its position and reputation in these fields. Several high-profile and experienced barristers successfully applied for tenancy, and in March'20 Chambers welcomed 4 new barristers: Justin Crossley [1993], Bronia Hartley [2006], Colin Richmond [2012] and Peter Yates [2014] (all former Members of Zenith Chambers). Their arrival brings the number of specialist injury law barristers in Chambers to over 60. It also means that with 120 Barristers, according to Chambers & Partners, Chambers is now ranked the 11th largest in the UK. There has been unprecedented financial growth for the team recently, a refection of not just the quality of legal advice and service offered but also the continued expansion and maintenance of client contracts with major national insurers and law firms. The team have also been involved in several high-profile reported case, including:
Involvement in prominent cases and technical excellence
VWF|SUPREME COURT|Thomas Arthur Watkins v Hugh James Ford Simey Solicitors [2019] UKSC 54
The case was the first heard by the Supreme Court sitting in Cardiff. Richard Copnall and Abigail Telford represented the claimant in a solicitor's negligence case arising from the VWF litigation against British Coal. The Claimant's solicitors failed to properly advise on a settlement offer which didn't include a services award in respect of the need for assistance in performing domestic duties.
PI|HIGH COURT|Evans v Betesh Partnership and McGinty [2020] EWHC 1589 (QB)
Howard Elgot successfully appeared on behalf of the defendants in case that concerns solicitor/barrister professional negligence arising out of a personal injury case alleged to be of maximum severity. It was held that where a claimant alleges that they did not have litigation capacity at the date of the settlement of a personal injury claim, the claimant ordinarily must litigate against the original defendant first, rather than sue the legal advisers. There was no direct authority on this issue litigated.
CREDIT HIRE| HIGH COURT|Bunting v Zurich Insurance PLC [2020] EWCH 1807 (QB)
Steven Turner appeared on behalf of the Defendants in this case which deals with the correct approach to "imperfect" basic hire rates evidence.
FATAL ACCIDENT CLAIM|High Court|DZ (Personal Representative of the Estate of YS, deceased) v South Central Ambulance Service NHS Foundation Trust [2020]
Complex case concerning the level of care mum would have provide to her two autistic boys had she not died from bacterial septicaemia. Case also contested on the basis that mum would have died whether or not she had been advised to seek medical help. The boys were awarded £911,00 each. The winners will be announced during an online award ceremony on 19
th
November 2020, for further details and to register for the ceremony, please visit…
https://www.claimsmag.co.uk/british-claims-awards