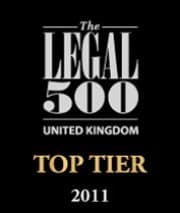 22 September 2011
Top Tier Set – Legal 500 2011
Parklane Plowden remains in tier 1 of the Legal 500's Leading Sets on the North Eastern Circuit with 20 recommendations.
Commentators note that "good regional set" Parklane Plowden continues to grow in size and confidence and is "led by a good set of clerks who are very focussed on service delivery".
Commercial
Tim Hirst and Paul Brook both come highly recommended in key commercial and chancery areas with particular emphasis on litigation, arbitration, mediation and professional negligence.
Employment
"The regional leader for employment law" with "a number of excellent employment barristers" Andrew Webster "knows employment inside out", and "has clearly gained respect of the tribunal" Seamus Sweeney has "superior knowledge of equal pay" and Andrew Sugarman has "excellent depth and breadth of knowledge, gives realistic rather than legalistic advice", Claire Millns is a "very solid advocate and is robust in cross examination", Ashley Serr comes highly regarded.
Family
Chambers provides "good quality children law representation both in private and public law". Team members include "very strong advocate Joanne Astbury and Lynn McFadyen who employs "quiet professionalism that instils confidence", Dornier Whittaker who is "empathetic but sensible in her advice", Julia Nelson comes highly recommended.
Personal Injury & Clinical Negligence
Chambers is regarded as a specialist set in clinical negligence and personal injury claims, providing "a depth of PI Knowledge which is hard to match in the North East. Included among the bench of "strong talent" are:
Oliver Longstaff who takes a "highly client-centred approach"
Andrew Axon "a sound and sensible lawyer"
Stuart Brown QC "A frighteningly intelligent silk with a sharp mind, respected by both claimant and defence solicitors in the field", the "quick, reliable and approachable"
Jonathan Godfrey and Jeremy Freedman whose reputation in the field of clinical negligence and personal injury litigation is "very strong"
Elizabeth Hodgson who "works well in the more complex cases"
Michael Ditchfield is recommended
Christopher Williams whose "communication skills are second to none"
"excellent on his feet" James Murphy.