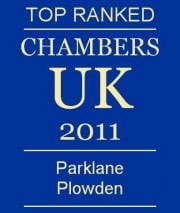 3 November 2010
Chambers and Partners 2011 – Leading Set in the North East.
Chambers excels itself in Chambers UK guide to the Legal profession with 21 recommendations as leaders in their fields.
The following recommendations apply in the following disciplines within Chambers:
Clinical Negligence
Stuart Brown QC, who heads up Chambers Clinical Team, appears in Band 1 of the leading silks on the Northern/North Eastern circuit. Stuart focuses his clinical negligence practice on complex cerebral palsy and other obstetric claims. Jeremy Freedman, band 1 of junior counsel, is described as "an approachable and personable operator who is very efficient and turns his papers around very quickly." Also appearing within band 2 Andrew Axon, who handles a range of matters from birth trauma to misdiagnosis, is very highly regarded for his efforts.
Employment
Chambers employment team remains the highest regarded set on the North Eastern Circuit with Seamus Sweeney noted as being a Star Individual "head and shoulders above his competitors," with clients saying his opinion is "invaluable when it comes to the most complex and high-value cases". Not only is he a "robust and meticulously prepared advocate," but he is also "exceptionally good at engaging with clients and inspiring confidence".
Dominic Bayne, who has a growing reputation and is commended for his "understated yet highly effective approach to complex cases." Sources say he is "incredibly intelligent, articulate and good at winning client confidence." Andrew Sugarman, continues to attract praise for his employment expertise and is said to be a "very sharp advocate." who impresses clients along with Kirti Jeram, who has a "fantastic manner with clients," and is "extremely well prepared and very good at absorbing the facts." Ashey Serr is highly commended for his "assertive manner and persuasive advocacy skills".
Family
Noted for her skills in highly contentious ancillary relief matters Joanne Astbury, is also highly regarded for all aspects of family work.
Personal Injury
The only recognised and ranked set on the North Eastern Circuit Chambers Personal Injury team houses the majority of the top personal injury barristers. It was praised for its helpful clerking and overall accessibility.
Stuart Brown QC is renowned for his handling of high-profile abuse cases, and has particular expertise in employers' liability and industrial disease matters. Head of the personal injury group Andrew Axon is praised for his "no-nonsense approach" and "what you see is what you get with him". Richard Copnall is "very thorough in his approach and one of the best cross-examiners on circuit." He takes on a wide range of cases, including EL/PL, catastrophic injuries and fatal accidents. Jeremy Freedman, a lawyer lauded for his "toughness in negotiation" and his marshalling of "complex medical arguments." He is widely regarded as "a consummate advocate" who is "very impressive in the courtroom" Sources were keen to stress Stephen Friday's "approachability and all-round excellent manner," as well as his undoubted technical skills. Stephen handles the full spectrum of personal injury cases, including employers' liability, RTA's and fatal accidents.
Howard Elgot is "a well prepared, fearsome cross-examiner and negotiator" who is well known for his handling of catastophic injury, industrial disease and stress claims, whilst James Murphy is noted for his skilful approach to high-value employers' liability claims. Sources rate him a a "particularly intelligent trial advocate" who is "excellent at explaining the position to clients in a language they can understand."
Elizabeth Hodgson has "exceptional legal knowlegde and ability," whilst Mark Thomas is a "realistic and down-to-earth junior" who is seen as a good choice for risk assessment. Steven Turner draws praise for his "sound advice" and for the quality of his technical skills. Catherine Souter is an up-and-coming lawyer who has "strong client-facing skills and a quick turnaround on her papers".
Sport
Stephen Turner is highly praised for his increasing involvement in sports cases.