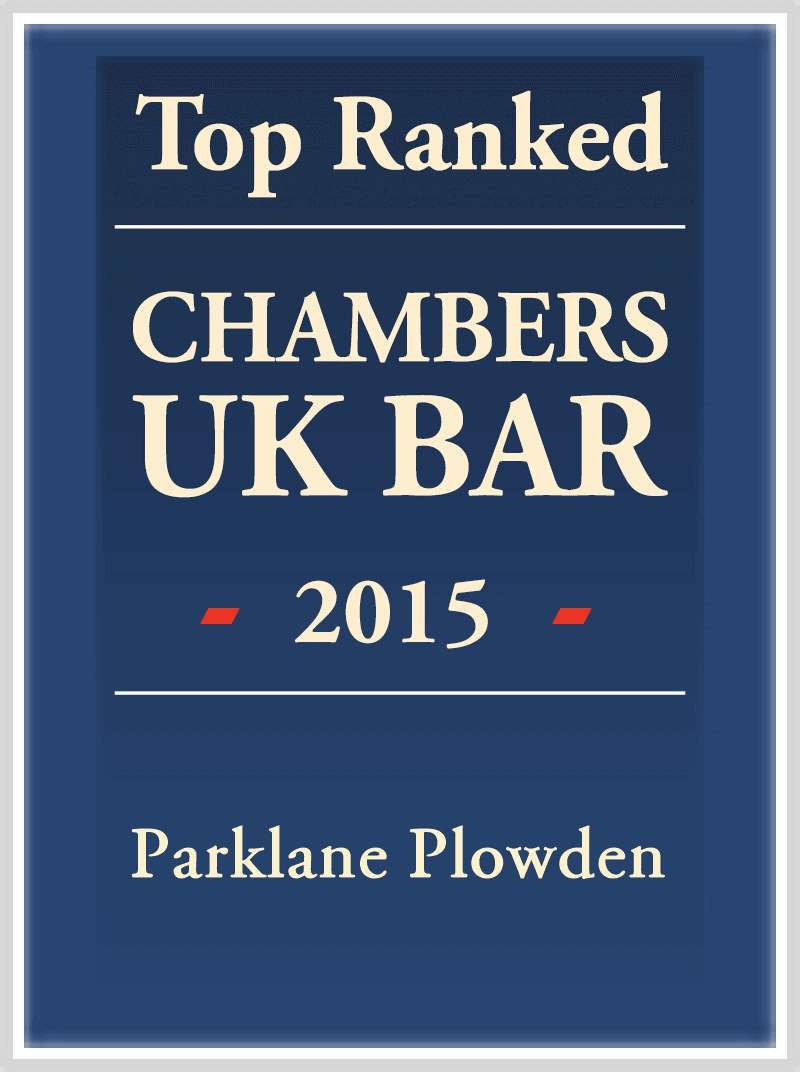 10 November 2014
Chambers and Partners 2015 -Top Ranked Set
Personal Injury
A dominant practice in the North Eastern Circuit, Parklane Plowden is capable of tackling the most complex and high-value personal injury claims. The set has seen an uptake in instructions regarding catastrophic injuries, inquests and fraud on behalf of a variety of clients. Its stellar roster includes a group of silks and talented juniors, many of whom are leaders in their respective fields. Sources affirm that "they are specialised in personal injury and clinical negligence, and the barristers are doing a good job."
Client service: "Andy Gray is very approachable and the clerking is generally very good. I would certainly recommend them to anybody."
Stuart Brown QC
A seasoned personal injury counsel acting on behalf of both individuals and insurers. With over 20 years in silk, he has
Richard Copnall
Specialises in high-figure clinical negligence and personal injury cases. He is also heavily engaged in inquests with regard to human rights issues in custody.
Recent work: He acted in Iris Alison Pearson v South Tees Hospitals, a fatal claim arising from a post-operative overdose of anticoagulant that caused brain haemorrhage.
Andrew Axon
Has extensive experience in relation to personal injury and clinical negligence work across the region and beyond. As the head of chambers, he is widely noted for his advocacy in courts and outstanding client service.
Expertise: "He is the sort of guy you want in the court. He exudes confidence, has detailed knowledge of the case and understands the law inside-out." "He has very good client skills and I won't hesitate to instruct him."
Stephen Friday
Adept at complex personal injury matters, with particular expertise in chronic pain cases and RTAs causing severe injuries.
Expertise: "He works very hard and will always try his best for the clients. He is widely respected by the judiciaries." "He did an excellent job in negotiating the compensation figure and explaining that to the client."
Recent work: He acted on behalf of the claimant in Janine Casey v Hull and East Yorkshire Hospitals, regarding a slipping accident resulting in disability.
James Murphy
Advises predominantly on personal injury and disease work on behalf of trade unions and insurers nationwide. He is an expert on asbestos injuries, with particular knowledge of mesothelioma.
Expertise: "He is very persuasive and can extract exactly what we want the witness to say in cross-examinations." "His client care skills are exceptional."
Recent work: He acted in Russell Moulton v Midlands Co-Op & Others in relation to mesothelioma and issues of breach of duty.
Howard Elgot
Well versed in catastrophic injury and clinical negligence litigation. Commentators praise him highly for his strong technical skills and knowledge in industrial disease cases, including asbestos and respiratory.
Expertise: "He is very capable and a tenacious advocate." "He has a sharp mind and is one of the best counsels in the region, even a match for a QC."
Recent work: He acted in the fatal incident claim Chapman and Gibbs v Bradley, which involved dependency claims as well.
Corin Furness
Earns recognition for his breadth of expertise in multi-track matters, including severe injuries and employers' liability work. His practice also covers fraud claims and injuries arising from criminal acts
Expertise: "He is regarded as a thorough lawyer."
Steven Turner
Continues to provide high-calibre advice on an array of matters, incorporating fatal accidents, industrial diseases and fraud. He is lauded for his speciality in legal compliance in this sector.
Expertise: "He is a careful and meticulous practitioner." "He is excellent in handling high-profile litigation and Court of Protection work."
Catherine Souter
Singled out for her experience in employers' and occupiers' liability issues. Clients are drawn from a wide range of sectors and include insurers, trade unions and local authorities.
Christopher Williams
Offers solid expertise in a range of matters, including workplace accidents, fatal incidents and industrial disease, and is renowned for his strength in industrial deafness and upper limb disorders.
Recent work: He acted in Cleveland Potash Deafness and HAVS, a class action of deafness claims and HAVS claims against the same employer.
Clinical Negligence
Stuart Brown QC
Acts for both claimants and defendants in cases of severe injury. He is noted for his considerable expertise on obstetric negligence issues.
Expertise: "He's a highly experienced advocate who exhibits fantastic judgement."
Howard Elgot
Receives instructions from both claimants and defendants in clinical negligence cases, and is noted for his expertise in catastrophic brain and spinal injury cases.
Expertise: "He is a tenacious advocate who is particularly skilled in his analysis of medical evidence."
Andrew Axon
The head of chambers, Andrew Axon is also one of the set's leading clinical negligence practitioners. He is noted for his expertise on brain injury claims.
Expertise: "He's an amazing advocate - when you've got him onside you want the case to go to court. It's almost worth paying the money just to watch him in action: he's fantastic, exudes confidence and knows the law inside out."
David Wilby QC
Undertakes a broad range of clinical negligence work, and is noted for his expertise on complex and high-value claims.
Expertise: "He's an adroit advocate; extremely thorough in his preparation and great with clients."
Employment
Dominic Bayne
Handles respondent work for public clients and receives instructions from government in his position as regional treasury counsel. He also handles important claimant matters relating to discrimination, equal pay, unfair dismissals, TUPE, redundancy and whistle-blowing issues.
Expertise: "His manner is very considered and belies the fact that he is extremely effective as an advocate and gets into the details really deeply."
Recent work: Acted for Hartlepool BC on a 12-day whistle-blowing and unfair dismissal case.
Seamus Sweeney
Ranked as the only "Star" individual on the North Eastern Circuit. A leading light in employment law on the North Eastern Circuit. He focuses on handling respondent work for local government and NHS trusts, and is an authority on matters concerning equal pay litigation. He also handles claimant work.
Expertise: "He is an exceptional barrister. He is not stuffy, clients love him and he is willing to roll up his sleeves. Behind that friendly behaviour lies a killer cross-examiner, which is exactly what you want." "He is always excellent and is quite well known as being one of the best in the region. If I have a high-value claim locally, he is my first port of call."
Recent work: Acted for Lord Alan Sugar's company, Amshold, on an unfair constructive dismissal and whistle-blowing claim brought by winner of 'The Apprentice', Stella English. The claims were dismissed.
Andrew Sugarman
Represents commercial and public sector employers, charitable bodies, trade unions and their members.
Expertise: "He is the calm port in the storm. He looks at things objectively and thinks well on his feet."
Recent work: Instructed to act for BUPA Dental Services on an unfair dismissal and victimisation claim under the Equality Act. The issue succeeded before the ET and an appeal has been lodged at the EAT.
Kirti Jeram
Handles a broad range of employment matters. She is well known for her experience in proceedings relating to discrimination and unfair dismissal.
Expertise: "She is very tenacious at tribunal and outstanding with clients." "She is terrific and incredibly bright."
Family
Joanne Astbury
Handles all aspects of family law but has noted expertise in care proceedings within public law. She regularly represents vulnerable clients, particularly children, in complex cases.
Expertise: "She is a very fierce advocate, with very sound judgement. She sits as a recorder, so has the advantage of hearing cases, as well as being an advocate."
Guy Swiffen
Renowned for his practice in sensitive, multifaceted child care proceedings. He represents a broad portfolio of clients and is well regarded on the North Eastern Circuit for his expertise in children law.
Expertise: "He is highly rated by everyone as a very persuasive advocate."
Motor Insurance Fraud
Corin Furness
Practises exclusively in personal injury law, and has a particular focus on fraudulent claims. He acts for both claimants and defendants.
Expertise: "He's very good with the witnesses and insurers as he's very down to earth, has a good analytical style and is a good advocate." "He's very pragmatic and explains things very clearly."
Recent work: Has recently settled a number of defences and Part 20 claims in low-velocity impact, staged accident and phantom passenger cases.
Sport
Steven Turner
Has a general commercial practice and brings this expertise to bear on sports contract disputes within football and cricket.
Expertise: "An advocate you can turn to for really thorny problems."
Craig Moore
Acts for sports governing bodies and individuals on commercial matters, including sponsorship and insurance. He works with clients from a broad range of sports, including cycling, football, rugby and extreme sports. ort