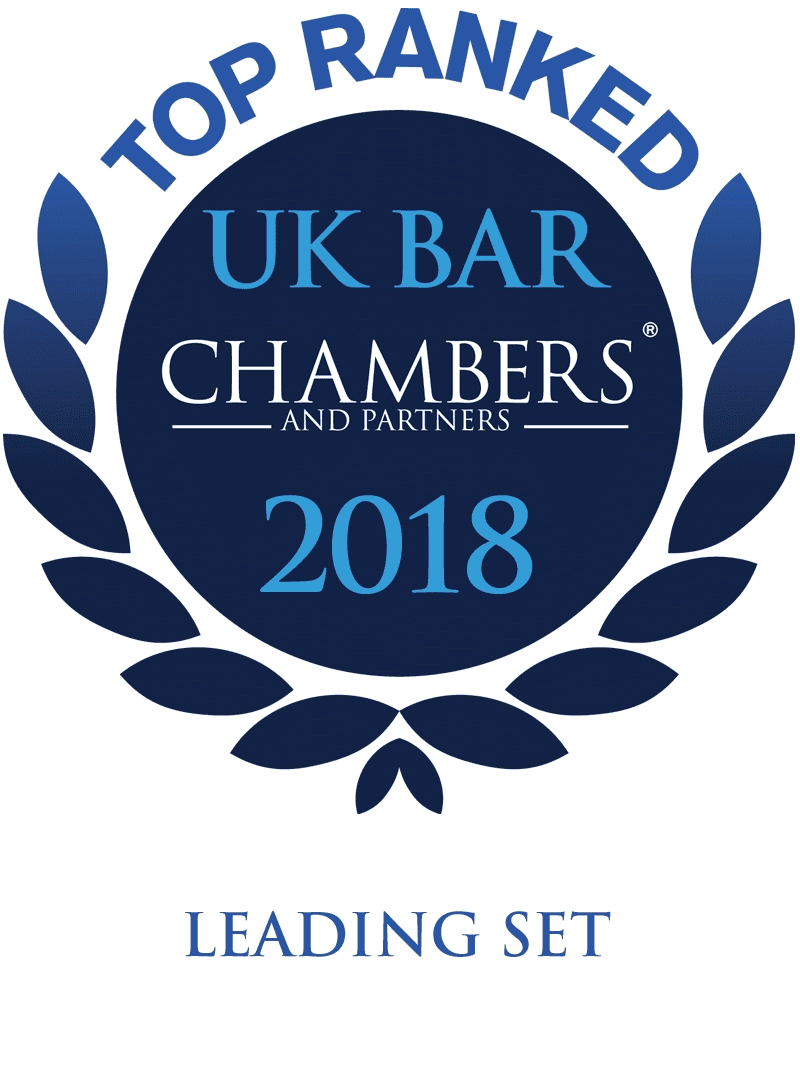 3 November 2017
Chambers and Partners UK Bar Rankings 2018
Parklane Plowden Chambers are delighted with this year's Chambers & Partners UK Bar rankings. With 30 individual rankings and the only ranked Chambers on the North Eastern Circuit for Personal Injury and Clinical Negligence we are proud to be regarded as the Premium North Eastern set and "Outstanding and by far the best in the North of England".
Personal Injury
Premium North Eastern set, home to a large number of juniors experienced in personal injury law. Members act for both claimants and defendants, and are instructed by leading solicitors as well as insurers and trade unions. They handle scores of high-stakes cases, concerning such matters as chronic pain, RTAs, employer liability, catastrophic injuries and fatal accidents, and enjoy an excellent reputation for defendant motor insurance fraud in particular. "All of the barristers have been nothing but professional, warm and friendly," comments one satisfied client. Another interviewee describes the chambers as "outstanding and by far the best in the North of England."
Client service: "They are a very forward-thinking set and the clerking is excellent." Practice director Michael Stubbs is described as "a delight to work with and fantastically proactive in arranging suitable counsel." Andy Gray, the clerking director, is also praised for his ability to "make counsel available at short notice."
JUNIORS
Andrew Axon
Combines his outstanding personal injury practice with his work in clinical negligence. He is instructed by both the defence and the prosecution in serious, high-value cases, and excels in those relating to brain and spinal injury as well as amputations.
Strengths: "His ability to communicate is excellent. He can convey complex legal matters in a simple manner that clients understand and he appreciates the importance of empathy." "He is able to deal with the issues in a case and has a good eye for detail."
Richard Copnall
Known for his commanding presence at trial and in negotiations, making him a powerful representative for clients. He principally acts in high-value catastrophic injury cases, though he also represents clients during inquests, and has additional experience in human rights issues.
Strengths: "You can see his scientific background in his analysis. He's an eminently reasonable chap. You are taken away by the flow of his logic." "Sharp, confident, clear and always well prepared. When he speaks you listen and take on board what he's saying."
Recent work: Acted for the claimant in a motor accident claim against the Secretary of State for Transport, which raised issues of the extent to which the defendant is required to gather and consider accident data in order to discharge its Article 2 duties to motorists.
James Murphy
A well-respected junior and head of the personal injury team at Parklane Plowden. He handles both industrial disease and catastrophic injury claims, and also has a specialist focus on employer's liability. He represents claimants and defendants, both at first instance and on appeal. He is praised for his creative drafting and down-to-earth manner.
Strengths: "He gives clients confidence and presents things in a way that the client can understand. He's not put off by paperwork and goes through everything with a fine-tooth comb." "He has a pleasant personality that immediately puts clients at ease. He is extremely thorough and everything you want in an advocate."
Recent work: Represented one of the defendants in a claim for £4 million relating to a rope access accident in which the claimant was rendered partially tetraplegic.
Howard Elgot
Senior junior known for his superb grasp of claims involving serious spinal and brain injuries. He often acts in complex, high-value paralysis cases, representing both claimants and defendants. He is a frequent speaker at national conferences on personal injury law.
Strengths: "As good as a silk. Able, tenacious and a fighter. Always quick to pick up on relevant points."
Recent work: Acted for the defendant in Mills v Bankole, an RTA matter in which the claimant claimed permanent disability and almost £1 million in damages.
Stephen Friday
Retains a broad practice representing defendants and claimants alike. He is particularly experienced in cases concerning chronic pain, brain injury and amputation, as well as others arising in a clinical setting. He also takes on claims relating to fatal traffic accidents.
Strengths: "Excellent in every way." "He's very thorough, he gets to grips with the issues quickly and he's good with clients."
Recent work: Achieved a favourable sum at settlement for a claimant who had a slipping accident and suffered post-surgical neuropathic pain to the dominant wrist, hand and arm.
Corin Furness
Very well versed in employment and public liability, and also noted for his fraud expertise. He also regularly handles claims concerning serious injuries and fatalities caused by RTAs. He acts for both claimants and defendants.
Strengths: "Unbelievably thorough. His attention to detail is staggering. He will pick out minute details that most people will miss and he is impressive on his feet in court." "Very meticulous and also very easy to work with."
Tom Nossiter
Receives high praise for his exceptional client care skills, which lend strength to his claimant-focused practice. He acts in high-value occupiers' and public liability claims as well as complex employment liability cases.
Strengths: "An incredibly thorough and hard-working barrister. He has good knowledge of the law and he is also very organised." "A really likeable chap. He's able to reassure clients and put them at ease."
Recent work: Acted in Bradley v Ciprini, a claim for damages brought by a bus driver who allegedly suffered PTSD after a rugby player tackled his bus.
Catherine Souter
Represents claimants and defendants in multi-track as well as fast-track cases. She has a broad range of experience but is particularly knowledgeable about personal injury arising out of health and safety breaches, and is well versed in employment, occupiers' and public liability cases. Her clients include local authorities, manufacturers and insurers.
Strengths: "Really determined, robust and the advocate you want on your side. She is well liked by clients and clear and concise when dealing with them."
Recent work: Represented the defendant local authority in a case brought by a schoolchild regarding injuries sustained when he caught his rucksack on a school handrail.
Steven Turner
Predominantly acts for defendants, though he also represents claimants in workplace accident claims. His cases involve complex medical and legal evidence.
Strengths: "Very personable. He has a very good manner with clients and fills them with confidence." "Intelligent, articulate and also able to put across complex arguments and submissions in a persuasive and simple manner so that clients can understand."
Recent work: Acted in a case involving a vulnerable alcoholic living in sheltered accommodation who stepped out in front of an oncoming car and suffered a significant closed head injury with multiple other fractures.
Stuart Jamieson
Junior whose flourishing practice sees him representing both claimants and defendants in complex personal injury cases. He regularly acts for clients with life-altering injuries arising from accidents at work as well as serious traffic accidents. He is noted for his exceptional ability when it comes to cost issues.
Strengths: "Exceptionally good with clients and his attention to detail is second to none." "Helpful and hands-on."
Recent work: Acted in a case relating to an injury from a dog attack sustained whilst the claimant was walking in to work.
Hylton Armstrong
Has a broad personal injury practice, acting in fast-track and multi-track claims as well as representing clients at inquests. He regularly undertakes cases arising out of RTAs and incidents occurring on construction sites. He represents both claimants and defendants.
Strengths: "Approachable and thorough." "He's someone who inspires confidence and works collaboratively with clients and solicitors. He has a keen eye for detail and is a superb advocate."
Recent work: Achieved a favourable settlement for a claimant who suffered a fractured hip and PTSD following a fall on a bus.
Elizabeth Hodgson
Represents defendants in personal injury cases related to employer's liability as well as public liability claims. She also acts for claimants in claims arising for allegations of childhood abuse. Her clients include insurers, local authorities, trade unions and the NHSLA.
Strengths: "Very good with the clients and excellent in court." "A great court performer who goes the extra mile for clients. She exudes confidence, affability and charm. She is extremely knowledgeable and professional in her field."
Recent work: Successfully represented the defendant in an application to set aside a notice of discontinuance and obtain a finding of fundamental dishonesty against a claimant who had discontinued his claim in order to avoid the qualified one-way costs shifting provisions.
Mark Thomas
Acts for both claimants and defendants in a wide variety of personal injury cases. He is noted for his experience handling complex industrial disease claims.
Strengths: "He has fantastic attention to detail and his knowledge of law and procedure is second to none. He adopts a collaborative, confidence-inspiring approach with clients." "Thorough and personable."
Christopher Williams
New head of chambers. Has a broad practice that combines expertise in personal injury and professional negligence. He acts in a wide range of cases, representing both claimants and defendants in employers' liability matters, including those concerning industrial disease and injuries in the workplace.
Strengths: "A great advocate. He's really good on his feet when cross-examining witnesses." "Solicitor-friendly and commercial about the best way to resolve cases."
Recent work: Represented over 20 claimants with hand-arm vibration syndrome pursuing claims against their employer.
Clinical Negligence
Parklane Plowden is a renowned set for clinical negligence claims on the North Eastern Circuit. Its barristers represent both claimants and defendants in a diverse range of claims that includes those concerning cauda equina syndrome, acquired brain injury and birth traumas. The set is also adept at acting in inquests, and cases related to delayed diagnosis, psychiatric care and surgical negligence.
Client service: "Clerking director Andy Gray knows his barristers, knows the cases and he knows us so you can pick up the phone about a problem and he sorts it out." "The clerks are very friendly, approachable and helpful."
JUNIORS
Andrew Axon
Acts on both the claimant and defendant side of heavyweight serious injury claims including those arising from surgical negligence, delayed diagnosis of diseases and a failure to supervise those at risk of suicide. He is head of chambers and is widely renowned for his handling of cerebral palsy and acquired brain injury claims.
Strengths: "He's my absolute go-to. He has pulled settlements out of the hat that I didn't think were possible. He's very, very intelligent and is just delightful with people." "He's very polished, very charming and is very well respected by clients." "Adept at dealing with both legal and medical issues and delightful with clients, who all have absolute confidence in his advice."
Richard Copnall
Earns considerable praise for his work on clinical negligence inquests that lead to civil claims. His matters include cases concerning failures of medical care, as well as failures to properly monitor patients with mental health issues.
Strengths: "He is extremely experienced, bright and good technically but equally he's very approachable and good with clients." "Very reliable, never pulls out of commitments and clients always relate to him. He's good at telling them what they need to hear and ensures that there is objectivity and their expectations aren't raised too high."
Recent work: Acted in Todd v Barchester which involved shortcomings in medical care in a care home after a resident suffered a fractured hip which led to her death.
Howard Elgot
Assists with long-running and typically high-value claims on behalf of both claimants and defendants. He has recent experience in child brain injury and failed orthopaedic surgery cases, as well as psychiatric claims.
Strengths: "He's very, very experienced and he thinks outside of the box." "He will fight your client's corner and doesn't back down easily."
Recent work: Successfully represented the claimant in a case in which negligent treatment of an infection led to a total knee replacement, while further infections and surgery left the claimant permanently disabled.
Stephen Friday
Handles a range of issues, with a focus on delayed diagnosis and failures to diagnose. His caseload includes complex claims concerning brain injuries and fatalities.
Strengths: "He's technically very able and he leaves no stone unturned." "Stephen is very insightful as well as approachable. He establishes a good rapport with clients quickly and easily."
Recent work: Acted in a Fatal Accidents Act claim in which there was a failure to diagnose an acute small bowel obstruction, resulting in fatality within 24 hours.
Hylton Armstrong
Has a growing presence in clinical negligence and receives instructions in a broad range of matters. His expertise encompasses inquests into psychiatric and hospital care, as well as failures to diagnose.
Strengths: "He's very approachable and bright, very good with clients."
Recent work: Acted for the family of the deceased in an inquest into failings in psychiatric care after an informal patient committed suicide at home after being collected from the care centre.
Family
Joanne Astbury of Parklane Plowden
Head of the family team at Parklane Plowden, Joanne Astbury focuses her practice on public children law and care proceedings. She is highly skilled in cases involving serious abuse and medical technicalities. She has particular experience representing children as well as clients of all ages who have mental health and learning difficulties.
Strengths: "She is an excellent barrister in terms of experience. She is approachable, good with clients and always well prepared." "She is tenacious, intelligent and very thorough. She has an exceptional courtroom presence and is easy to work with."
Sara Anning of Parklane Plowden
A specialist in children work, who acts for local authorities, children and guardians, and has particular experience in cases concerning allegations of severe harm, including physical and sexual abuse. Also takes on cases concerning same-sex parenting, artificial insemination and adoption.
Strengths: "She is professional and effective." "She is extremely hard-working and well prepared."
Elizabeth Darlington of Parklane Plowden
Highly regarded for her expertise in property and chancery law, she is frequently the top choice for solicitors handling TOLATA and cohabitation disputes arising from separations. She also handles inheritance claims.
Strengths: "Beth is approachable and very good with professionals and clients. She is technically very competent." "A genuine authority in TOLATA cases who provides clear, well-prepared advice and representation."
Recent work: Acted in a matrimonial property dispute that hinged on whether the claimant acquired a beneficial interest in two properties.
Duncan Maxwell-Stewart of Parklane Plowden
Specialises in matrimonial finance disputes arising out of divorce and separation. These can involve both cohabitants and third parties and encompass such issues as inherited wealth, farms, trusts, foreign assets and pensions. He also possesses expertise in cases relating to assets from a personal injury award.
Strengths: "He is very technical and very pleasant to work with. He is great in court and excellent with clients. We try to get Duncan on board, especially on TOLATA cases, with which he is particularly good. The technicalities and procedures can get difficult and it's good to have someone you can rely on." "Duncan is a great advocate and puts the clients at ease with his calm manner. His client care skills are excellent."
Alex Taylor of Parklane Plowden
A child law specialist, he has vast experience in handling complex public law children cases. He regularly acts in cases concerning such matters as sexual abuse, adoption, murder, non-accidental injury and cultural practices.
Strengths: "He is incredibly thorough, whether representing parents or a local authority." "Very well regarded."
Recent work: Represented the local authority in an adoption case concerning three children of Ghanaian parents. The case raised issues of the weight to be attached to cultural and racial background when considering a plan for adoption.
Employment
Seamus Sweeney of Parklane Plowden (Star at the Bar)
A pre-eminent advocate who is widely respected in the North Eastern employment circuit. He regularly appears on behalf of a range of clients, from large corporates and local authorities through to individual claimants. He is noted for his experience across the breadth of the practice area, and for his involvement handling collective employment and restructuring issues and equal pay claims.
Strengths: "He is the top name in the North East. He's exceptional and everyone speaks very highly of him." "Seamus is a fantastic advocate. He gets to grips with the technical stuff and doesn't take any hostages."
Andrew Sugarman of Parklane Plowden
Receives no shortage of praise in the market for his distinguished practice representing claimants and respondents. He acts for a diverse client base, from trusts, local authorities and large-scale corporates to individuals.
Strengths: "The biggest compliment I can pay him is that I trust him with all of our clients. What he does reflects well on us." "Sugarman is a firm advocate whose calm exterior reassures clients. His grasp of the legal and factual issues inspires confidence."
Recent work: Acted for York Teaching Hospitals NHS Trust in a whistle-blowing, race discrimination and unfair dismissal employment tribunal claim brought by one of its vascular surgeons.
Dominic Bayne of Parklane Plowden
A well-trusted litigator with an impressive track record in all facets of employment law including discrimination and equal pay claims. He has a broad and diverse practice representing both private and public sector clients, ranging from large-scale organisations to individuals.
Strengths: "He's a very calm, measured counsellor. He's very bright and good with clients." "He is good at understanding what the client is looking to achieve from an early stage and that's reflected in his advice."
Recent work: Acted for Sunderland City Council in a high-value disability discrimination claim, involving over 15 separate alleged failures to make reasonable adjustments over about three years.
Kirti Jeram of Parklane Plowden
Recognised for her diligent practice representing public sector employers, which is inclusive of several local authorities. She has particular expertise in equal pay and unfair dismissal-related cases.
Strengths: "Kirti has a good eye for detail in factually complex cases. Her straightforward, open approach makes her a hit with clients and reassures witnesses." "Kirti is excellent. Her attention to detail and approachability makes the working relationship easy."
Recent work: Appeared in Southgate v Wilf Ward Family Trust, in which a care home manager brought claims relating to various allegations including unfair dismissal, sex discrimination and harassment.
Motor Insurance Fraud
Corin Furness of Parklane Plowden
Has a strong practice handling the defence of fraudulent motor insurance claims relating to staged and deliberately induced accidents, bogus passengers, exaggerated claims and fraud rings. He additionally offers expertise in credit hire fraud disputes.
Strengths: "He has a measured approach, and can consider complex issues and present them in a simple manner such that the clients and court can understand him. His measured approach results in strong outcomes." "Well prepared and knowledgeable, he offers clear and analytical advice."
Sport
Craig Moore of Parklane Plowden
Specialises in sport-related personal injury and insurance matters, and acts for individuals and governing bodies in the worlds of both football and rugby. He has extensive experience of chairing regulatory tribunals in a range of sports, including football, rowing and swimming.
Strengths: "He's impressive as no point of detail passes him by."