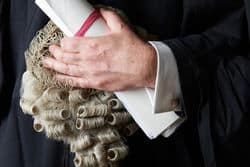 19 October 2016
Chambers is delighted to welcome Bryan Patterson-Whitaker & Sophie Firth as tenants following successful completion of their pupillages.
Bryan and Sophie will be welcome additions to Chambers specialist Personal Injury and Clinical Negligence, Commercial and Employment Law Teams.
Bryan completed pupillage under the supervision of Alex Foster and Roger Quickfall.
Bryan brings a wealth of practical and commercial experience to his practice. Prior to qualifying as a Barrister in 2013 he was a self-employed property developer of some 20 years standing. He also held director level positions in companies across a broad range of business sectors with a particular focus on fashion e-commerce and cross border trading of specialist motor vehicles.
Prior to joining Chambers, Bryan gained experience as a freelance County Court advocate where he practised in fields of personal injury, mortgage possession, landlord & tenant, consumer credit and insolvency.
https://www.parklaneplowden.co.uk/barristers/Bryan-Patterson-Whitaker/
Sophie completed pupillage under the supervison of James Murphy and Andrew Sugarman.
Under the supervision of James Murphy, Sophie developed an excellent grounding in employers' liability and assisted with a number of catastrophic injury, industrial disease and fatal accident cases. With Andrew Sugarman, she gained experience of clinical negligence and employment law, including delivering part of a lecture on whistleblowing.
Since being on her feet, Sophie has dealt with road traffic, credit hire and EL/PL cases and is currently involved in an inquest. She also has a developing employment practice, with experience of unfair dismissal, discrimination and whistleblowing claims.
Before pupillage, Sophie initially worked as a County Court Advocate and then as a credit hire paralegal at Lyons Davidson Solicitors. She also volunteered for the Personal Support Unit, a charity which assists litigants in person.
https://www.parklaneplowden.co.uk/barristers/Sophie-Firth/