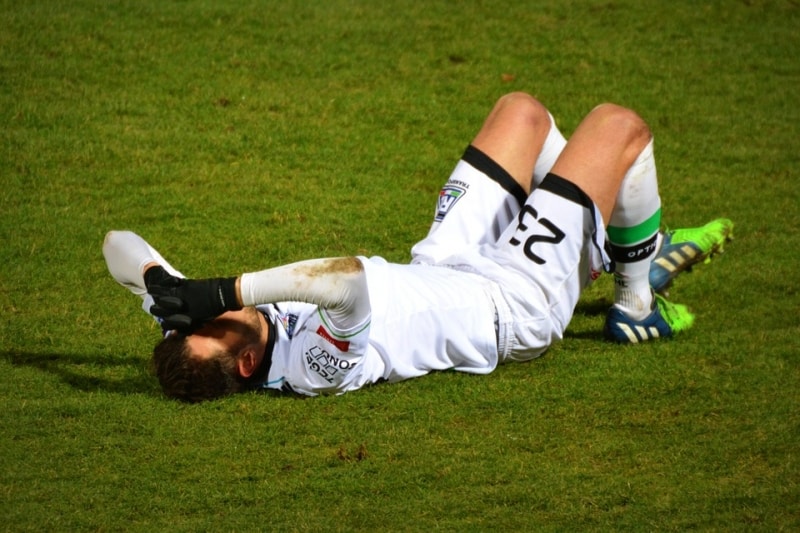 7 May 2019
Concussion in football – is more head-banging required?
It is now almost three and-a-half years since I last wrote on the subject of concussion in sport,[1] but the debate refuses to go away. This week, during the first leg of the Champions' League semi-final between Tottenham Hotspur and Ajax, the Spurs' defender Jan Vertonghen was involved in a clash of heads with two other players. Vertonghen was laid out with his nose bleeding heavily. Following lengthy treatment and was led from the pitch. He was given the all-clear to return to play by Tottenham's medical staff, after changing his blood-stained kit. The referee is said to have demanded that Vertonghen be double-checked first. However, when he did return to the pitch, the player's knees appeared to buckle and he retched. He was eventually led away and substituted.
The criticism which has been generated by the decision to allow Vertonghen to carry on playing has been met by Tottenham's assertion that they had complied with relevant FA and UEFA concussion protocols. They claimed that he had passed all of the on-field concussion tests (as to which, see below). According to the BBC Sport website, a Neurologist specialising in sport-related concussion has since confirmed that Vertonghen suffered a "pre-syncopal episode, a near faint", but not concussion. On the face of it, therefore, the pitch-side diagnosis by Tottenham's medical staff has been vindicated.
Fresh guidelines and rules were introduced by The FA for the 2014/15 season for the management of concussion and head injuries in football. They followed a review by its Medical Committee which was undertaken in 2013. The guidelines set out the procedures and processes that should follow a suspected head injury and how players should be re-introduced to competitive football over time via 'return to play' rules. I set out the key features of the guidelines in my earlier article. You can access them via the following link.
The FA's concussion guidelines apply to domestic football at all levels of the game. They are encapsulated in the brief and catchy mantra: "If in doubt, sit them out." Put another way, 'better to be safe than sorry'.
FA Premier League Rules were also amended for the 2014/15 season to establish that the decision of the team doctor is final when assessing whether a player who has sustained a head injury is, or is not, fit to continue playing or training. The PL rules also require the presence of a member of a club's medical team to look after players with a head injury that leave the field of play.
UEFA's concussion protocol requires a referee to stop a game for up to three minutes to allow a player to get treatment. Like the FA's domestic protocol, a player will only be allowed to carry on playing where the team doctor specifically confirms to the referee the player's fitness to continue playing.
It is arguable, though, that football is not keeping pace with other sports. Since the 2015 Rugby Union World Cup, elite rugby teams have been able to make a temporary substitution for head injuries. This allows more time for the injured player to be assessed. If he or she is unable to carry on a permanent substitution is allowed, even if the team has used up its quota of substitutes. The urgency to make a decision regarding the injured player's fitness is reduced. By contrast, while an injured footballer is being assessed, his or her team is reduced to 10 players and weakened. In football, a decision to make a substitution cannot be reversed. The pressure on medical staff to decide whether a player who has suffered a bang to the head is fit to return to play is increased, especially in those instances where a team has already used all its substitutes.
As I previously noted, there is a potential conflict of interest between the doctor serving the best interests of the injured player, but also the club paying his or her wages. That issue can be partly addressed by the presence of an independent doctor who has the authority to remove any player who is suspected of having suffered concussion. But if an independent opinion is absent, as it so often is outside elite football, a conflict will exist, even if it is only the appearance of conflict. The pressure on the doctor would be reduced, even if not eliminated altogether, by the use of temporary substitutes for concussion injuries, a move supported by the brain injury charity Headway.
The risk of abuse/exploitation of temporary substitutes in football has also been raised as an objection to them in the wake of the 'blood-gate' scandal in rugby, but the risk is arguably small and should carry fair less weight than the risk to players' health and safety.
Further protection is provided to players in non-elite rugby where teams are required to use the "recognise and remove programme". A player with a suspected concussion is removed from play immediately and must be cleared in writing by a qualified healthcare professional as fit to play before being allowed to do so.
The difficulty surrounding diagnosis of a concussive head injury is underlined by the fact that symptoms can vary, are mostly non-specific, and may evolve over the course of a number of days following the insult, perhaps longer. A diagnosis relies heavily upon a clinical assessment. The Standard Concussion Assessment Tool (SCAT) is a checklist of tests to be used where concussion is suspected, but ultimately still requires a clinical judgment to be made. Even when it is exercised conscientiously, professional judgment does not always prove to be infallible.
In my previous article, I also suggested that the judgment made by medical staff might be affected by the player's subjective presentation, motivated by his or her desire to carry on playing. A more precise diagnostic tool capable of eliminating that possibility has still not been developed.
Even if Jan Vertonghen's injury did not warrant a clinical diagnosis of concussion, it is clear that he sustained a head trauma which rendered him unfit to play. That became self-evident shortly after he was allowed to return to the field. The incident raises an important question about whether the focus of attention on head injuries in football has become too narrow by overly concentrating on concussion. Adherence to SCAT may have correctly excluded that particular diagnosis in Vertonghen's case, but it does not appear to have identified the pre-syncopal episode which has subsequently been diagnosed. If the checklist was capable of enabling medical staff to make the same diagnosis, it is reasonable to assume that Vertonghen would not have been allowed to return to the field of play.
By inference, The FA's mantra of "if in doubt, sit it out" means that medical staff should be left with no reasonable doubt about a player's fitness to continue playing before giving the okay to do so. That test should arguably apply to each and every type of traumatic head injury, irrespective of the precise clinical diagnosis. The diagnostic tools available to pitch-side medical staff should enable them to reach a reliably informed clinical judgment, under highly pressurised circumstances. If not, then unless until the necessary science becomes available, the clamour for football to introduce measures comparable with those in rugby union will become even louder and harder for the governing bodies to resist.
Craig Moore - Sports law barrister.
[1] Concussion in Sport – Where are we heading? (December 2015)