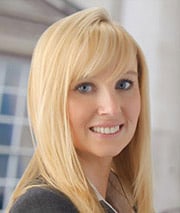 3 April 2012
Gemma Meredith-Davies joins chambers
Chambers is delighted to annouce that Gemma Meredith-Davies has returned to chambers. Gemma is a specialist Family barrister, with particular emphasis on ancilliary relief.
She joins us having spent a year at Deans Court Chambers, Manchester, before which she was a pupil and tenant at Parklane Plowden.
Gemma joins our dedicated Family team which now comprises 18 members. The team covers all aspects of private and publicly funded work, expertly clerked by Mark Williams.
Our commitment to developing the services we provide our clients has seen us as the top ranked chambers on the North Eastern Circuit in both the Legal 500 and Chambers and Partners since our merger in October 2007.