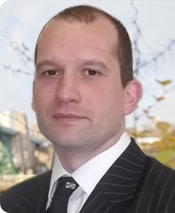 21 June 2016
Iron Man Challenge, 2016 – Jim Hester
Barrister and all round action-man, Jim Hester will compete in this years' "Iron Man Challenge" in Bolton on 16th/17th July to raise money for St Ann's Hospice. Jim is competing in the IronMan UK triathlon - a 3.8 km (2.4 mile) swim, followed by a 180 km (112 mile) cycle, followed by a 42 km (26 mile) run. Not to be outdone by their dad, Jim's children, Bea and Will are competing in the IronKids run (1km and 500m). To put the distances into context, it's equivalent to swimming from near the Priory at Tynemouth, around the coast to near the Spanish City in Whitley Bay; then cycling to Huddersfield; then running to the centre of Manchester! It takes something like 8,000 - 10,000 calories to fuel the distance. Jim
completed this event in 2014 with a time of just under 14 hours 30 mins. He said, "I'm hoping to beat my previous time and I've been training hard for the challenge. There is a very special feeling when you've just finished a 7-hour bike ride knowing that you've got a marathon to do next!"
If you'd like to sponsor Jim, Bea and Will please use the following link - https://www.justgiving.com/fundraising/Hesters-Iron-Events
GOOD LUCK TEAM HESTER!