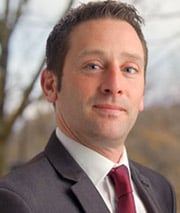 30 July 2014
Jason Middlewood Memorial
On Tuesday 5th August, Ian Pennock will embark on a gruelling, two week "Coast to Coast" walk of 190 miles to raise funds for the Jason Middlewood memorial. Jason, who tragically passed away in May of this year will be remembered with the placing of a solid oak bench in Park Square at the heart of Leeds' legal community.
Setting off from St Bees to the west of the Lake District, Ian will walk up to 18 miles each day, and hopefully arrive in some shape or form at Robin Hoods Bay near Whitby on 21st August.
Ian commented, "Jason Mark Middlewood passed away at the young age of 44 and, in light of what he did for everyone else at work, it is fitting that there be some kind of lasting memorial for all the good work he did in helping colleagues..."
"...I am 53 and not known for my fitness or love of exercise so the walk will be a genuine challenge!"
"For £900 Leeds City Council are prepared to provide a sturdy oak bench and memorial plaque within the gardens of Park Square which is the hub of the legal community in this city and where Jason would spend his lunch break upon the rare occasion of good weather. Should there be additional funds other ideas such as a public access defibrillator (£1,100) for use by all within the immediate area will be contemplated and/or any surplus donated to the Samaritans."
Anybody wishing to contribute towards Jason's memorial are invited to visit the following link where there are further details on sponsoring Ian's walk: https://www.justgiving.com/yimby/jasonsmemorial/