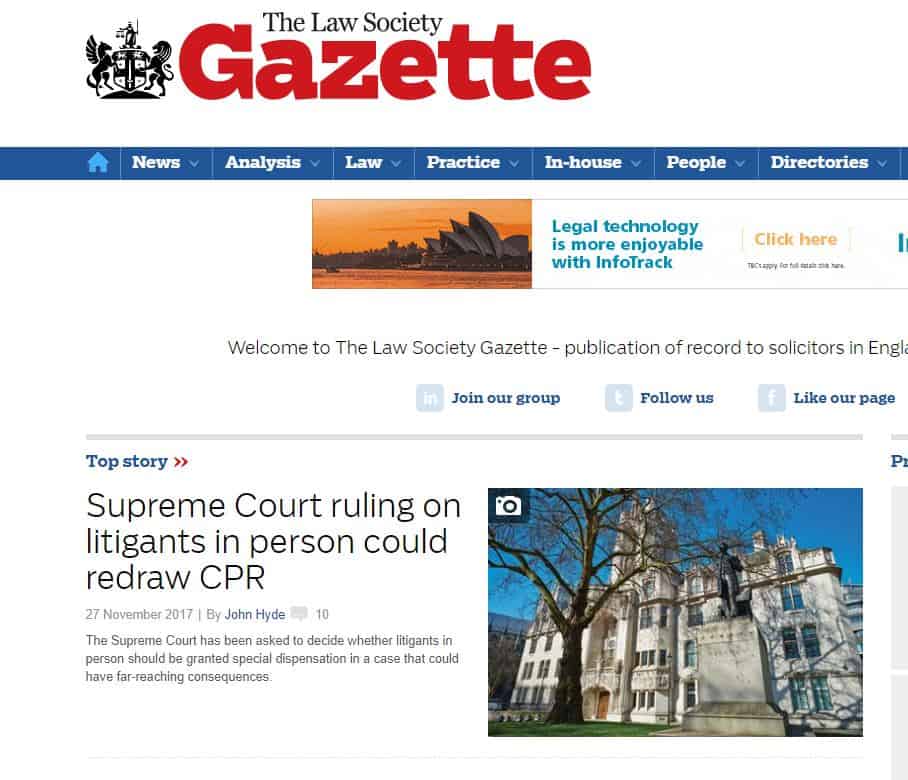 27 November 2017
Mark Barton v Wright Hassall LLP – Supreme Court case
On Wednesday 22nd November 2017 Howard Elgot and Abigail Telford of Parklane Plowden Chambers, instructed via Direct Access, appeared in the Supreme Court in Mark Barton v Wright Hassall LLP. They are instructed on behalf of a litigant in person whose claim against his former solicitors was struck out after he served his claim form and particulars of claim by email rather than by first class post.
It is the first time that the Supreme Court will consider whether a court should be able to take into consideration that a claimant is acting without legal advice when deciding whether to strike out a claim that is not served in accordance with the complex rules on service contained in the CPR (Civil Procedure Rules).
The Supreme Court will consider both the accessibility and intelligibility of the Civil Procedure Rules to litigants in person. In an era where the number of litigants in person is growing, judgment in the case will be of significant importance to litigators and legal commentators.
The arguments advanced on behalf of the claimant make reference to important research on whether and how litigants in person access legal advice, published this year by Lee and Tkacukova (University of Birmingham and Birmingham City University), and draw on recent developments in the European Court of Human Rights which contrast the purpose served by a particular procedural rule to its effect - in this case the complete loss of the claim without any adjudication on its merits.
This will be the first time the Supreme Court has had the opportunity to focus directly on the position of litigants in person in civil litigation
Law Socety Gazette coverage: 27th November 2017