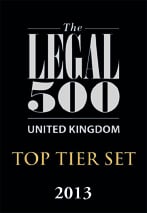 1 October 2013
Legal 500 Rankings: Parklane Plowden Chambers remains in Top Tier

Parklane Plowden Chambers is once again proud to announce that we have been placed in the Top Tier of the latest Legal 500 rankings.
Despite major reforms in the legal world during 2013, Chambers has proven that it is still a top Civil Law set in the north-east, "leading in Employment and Personal Injury work".
Overview
Parklane Plowden (based in Leeds and Newcastle) leads in employment and personal injury work.
Parklane Plowden's personal injury team is the largest on Circuit. Andrew Axon is noted for his 'high standard of performance in court'. The 'sensible and effective' Christopher Williams is also recommended, as are James Murphy and Catherine Souter, who have a strong following among insurers. Tom Nossiter is 'attentive and works hard'. Stuart Brown QC, Elizabeth Hodgson, and Jonathan Godfrey are noted for clinical negligence matters. Also recommended is Hylton Armstrong, whose 'service standards are second to none'.
At Parklane Plowden, Seamus Sweeney represented Lord Sugar in a high-profile case of alleged constructive dismissal. Roger Quickfall, Andrew Sugarman, and Andrew Webster are also recommended.
Parklane Plowden's Joanne Astbury is recommended for matters concerning vulnerable clients. Julia Nelson is noted for her 'supportive way with clients'. Guy Swiffen has 'a wealth of experience in care work', and Dornier Whittaker is 'charming, efficient, and insightful'.